Black and white is an all time favorite color combo. Today, we are serving up two black and white looks. Which one are you? Look 1: Clean, classic with an edge? OR Look 2: Bold patterns that make a statement?    LOOK 1 Jules Leather top by Line & Dot Mock neck styling, smooth faux leather fabric, and hidden back zipper closure. Self, 55% polyurethane, 45% rayon. Lining: 100% rayon.   Pistola Cassie Super High Rise Straight The Cassie is a super high rise straight leg that hugs your waist and is relaxed throughout. This carefree style comes in a classic faded black wash and features...
---
  We are hiring! This is your chance to work in a store that has been a pillar of Historic Main Street for over 10 years. Love Flight Boutique? Park City? Women & Kids clothing? This might be the job for you! We are looking for someone to join the team who is friendly, attentive, and customer service driven.   They should have excellent communication, interpersonal skills, and consider themselves a people person. You should consider yourself a self starter and problem solver.    Our ideal candidate has the ability to help clientele find pieces that make them feeling confident, feminine, and stylish....
---
Yesterday was a big launch day for the AW22 Rylee + Cru Collection! We released over 30 items for littles, but we don't want to forget to highlight the women's apparel.  We love the style and quality of these designs.  As we leave summer behind, these items are helping shape our fall wardrobe.    Longline Coat, Grey Plaid Long wool blend coat with notched collar, dropped shoulder seam, one single hidden snap closure at the chest and two front pockets for a refined and sophisticated way to stay warm. Featuring our 'grey plaid' all over print. Made of 50% wool,...
---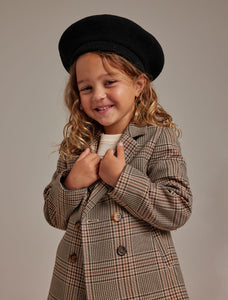 The Rylee + Cru AW22 Drop 1 has arrived at Flight. Be the first to shop the latest release. About the AW22 Collection: This season we celebrate the creative soul that lives within each and every one of us. From writers to musicians, painters to performers, this collection pays tribute to iconic art, music, and style that lives on long after its time. Drawing inspiration from the classic style seen on the streets of Paris to the effortless cool looks of a rockstar, the AW21 Drop 1 Collection features a perfectly curated mix of sweet silhouettes and playful prints. With the return...
---
    VOYAGE ET CIE: Curated French inspired moments through their handmade wax candles, fragrances, and skincare products. Every scent is developed to create a memory, develop space, and envelop you in inspiration.   FLIGHT FAVORITES:  BOTANICAL MINERAL SALTS, 250mL Create a relaxing home spa experience with these soothing and moisturizing therapeutic Dead Sea, Epsom, and mineral salts infused with a rich blend of aloe, chamomile, passion flower, organic essential oils and arnica extracts to ease tense muscles and calm the spirit. The glass is an exceptional container that preserves and adds vitality + energy to the contents inside. This bottle is...